Consiglio Financial Group, LLC.
Experience, Independence & Integrity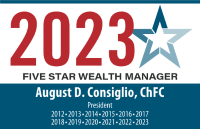 Welcome
You probably have a vision of your future. It may be to retire comfortably, educate your children, or protect your loved ones in the event of an unforeseen event. Despite goals, you may not have the time, desire, or expertise to execute and monitor your plans.
Consiglio Financial Group, LLC. (CFG) was founded on the philosophy of helping you achieve your personal and financial goals. Our professionals apply their knowledge and experience to your unique situation to develop a financial strategy that is appropriate for you. They contribute to your success by offering prudent financial advice, implementing recommendations with premier investment and insurance companies, and providing superior personal service in an environment of uncompromising integrity.
You can count on the advisors at CFG to:
Listen, probe, and collaborate with regard to your goals and tolerance for risk

Develop a customized strategy based on your input

Implement your plan through high-quality investment and insurance companies

Use new-fashioned technology--24/7 account access

Provide old-fashioned service--frequent communication and prompt attention to inquiries

Work for you and your best interests
The professionals at Consiglio Financial Group, LLC. build long-term, caring, and trusting relationships and believe that education and knowledge are important to realizing success. This website is designed to provide you with a variety of newsletter articles, calculators, links, and research reports to assist in the learning process. Please consider scheduling a complimentary meeting to discuss the achievement of your goals.
Use this calculator to estimate the federal estate taxes that could be due on your estate after you die.

How much life insurance would you need to produce a sufficient income stream for your family?

Estimate how much would remain after paying income taxes and penalties if you took an early distribution from a retirement plan.

How Long Will It Take to Pay my Balance?